Happy Friday!
I'm pretty excited to be switching things up this week and sharing a really fun interview instead of a review. (It's always good to stay on your toes. *winks*)
Someone I really admire and who has encouraged me quite a bit recently is cozy mystery author Nikki Haverstock. She recently released her fifth book in her Casino Witch Mysteries and was so glad she was up for an interview! (I mean how can I not when her opening blurb says that her main character worries about what dragons like for breakfast?!)
If you're ready to find out what Nikki things dragons eat for breakfast and what she would do if she found an illegal unicorn (because secretly we know I wants it), then check out her book below and read our fun chat!
About the Book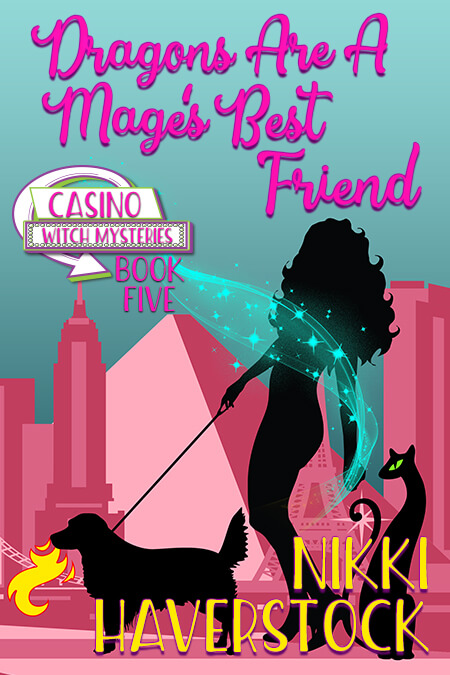 Things that Ella worries about at 2 a.m.
__Does it hurt to get smited by an angel?
__What do dragons like for breakfast?
__Is her friendship a curse?
Ella and Vanessa must investigate the latest murder in their small but magical gambling town with only a few minor inconveniences like an avenging angel, a surprise posse of clueless ghosts, and an illegal baby dragon. The owner of Fuzzybatts, a long time Rambler store, was found dead by his two children and now his widow wants answers. Plus Emily, Ella's close friend, has gone missing after sharing a threat against her life. Ella will do anything to find her even if that means talking to someone she hoped to never see again.
Purchase on Amazon (Available in Kindle Unlimited!)
Let's Chat!
– Hi Nikki! I'm SO excited to be chatting with you! For those who don't know you, can you share three words to describe yourself?
Snarky, talkative and prompt
– Ooo! I wish I was a little more prompt (like pre-kids prompt LOL). I noticed on your website that you mentioned you hosted a competitive archery reality show. Wow! That's amazing! What was your favorite part of hosting it?
I think it was sharing a sport that I am so passionate about with an audience that often didn't know much about archery. Even the archers that watched might only be familiar with a particular type of archery and we showcased all different types of competition. I also loved to see what REALLY happens on a reality show. We (the production staff) were so busy making sure that we kept to our schedule that we had no time to "start drama." The contestants did that all on their own!
– How interesting! I also didn't realize that their are different types of archery either. You learn something new everyday! 😉 You mentioned on your website too that you tried stand up comedy "but the cattle weren't impressed." Hehe! What's the funniest joke or story you remember telling?
I love to make people laugh and usually I tell stories where I am on the wrong end of things. I think it is important to see the humor in a bad situation. Right now I tell a lot of funny stories about my toddler cause raising a kid is brutal and a lot of people relate. Also stories about marriage, travel misadventure, weird people I encounter. Just everyday stuff.
– I hear ya there! Raising kids can be brutal and massively entertaining. I think it's awesome you look for humor in our everyday lives. So many congrats on the release of your novel Dragons are a Mage's Best Friend! Ella worries about what dragons like for breakfast and not sure what her response is, but I'm curious as to how you would answer that question. 😉 What do you think dragons like for breakfast?
What I decided in the book is that they eat whatever they want for breakfast unless you feel like getting burned trying to take it away! I bet they have pretty tough stomachs and will eat whatever smells good.
– LOL! Nope. I'm good. I have no desire to get burned. LOL! Ella seems to have her hands quite full in this story. What three things would you give to help Ella out in her latest investigations?
She needs a lot of food to keep Vanessa (her sidekick) full and happy, a fire proof leash for the dragon and a big book of answers because heaven knows that she is sick of figuring everything out for herself.
– That definitely sounds like it could be really helpful! Maybe she could get one of those sometime in the future? 😉 I've heard on numerous occasions that most authors can't choose a favorite, BUT I wonder who you would want to hang out with for a day. Who's the lucky character to hang out with? What would you guys do?
Ella, my main character. I think that in many ways we have similar personalities and maybe if we had an indepth talk then we could both figure out some things.
– That sounds wonderful! I would love to pop in if I can. 😉 For my last question, you just found out that instead of having an illegal dragon in your home like Ella, you have an illegal unicorn. How did you get in your possession? What are you going to do?
I bet it would be a rescue because I am a sucker for a hard luck story and we already have a lot of rescue pet. I would definitely ride it. I have been wanting to take up mounted archery so we could do that together.
– Oh man! Can you rescue me one?? Definitely a dream come true over here if I should ever find one. Maybe if I do, you can teach me the basics of archery and I'll do a photoshoot of you doing mounted archery? (That sounds completely epic by the way!) I guess will have to see if either one of us rescues one. 😉 Thanks so much for chatting with me, Nikki! I had so much fun!
About the Author
Nikki Haverstock is a writer who lives on a small ranch high in the Rocky Mountains. She has studied comedy writing at Second City and has published 13 cozy mysteries that are heavy on the humor.
Before fleeing the city, she hosted a competitive archery reality show, traveled the world to study volcanoes, taught archery and computer science at a university and worked on her family's ranch herding cattle. Nikki has more college degrees than she has sense and hopefully one day she will put one to work.
Nikki likes to write comedy pieces that focus on the everyday humor of family, friends and everyday life. She tried stand up but the cattle weren't impressed.
Website — Facebook — Facebook Reader Group — Twitter — Instagram — YouTube — Pinterest — Amazon Author Page — BookBub