Friends, I am beyond excited for this post today!
If you by chance missed my review of Mollie E. Reeder's The Electrical Menagerie yesterday, then please check it out to see why I enjoyed it so much. (Plus, scroll down for links to purchase it for only $0.99!)
Enchantment and bedazzlement is what The Electrical Menagerie brings to readers in multiple ways as it teleports you away from home to somewhere in The Celestial Isles. Some of the most "dazzling" things are the vivid and engaging performances that Carthage and Huxley see or hear about.
Take the quiz below to see what performance and performer appeals most to you (because truly they are all awesome)!
What show would you want to watch in The Electrical Menagerie?
1. Would you like to see live animals perform?
A. Who says they have to be real to give good entertainment?
B. No, I'm here to see the amazing people perform a good show.
C. I wouldn't mind maybe one or two to awe me.
D. Yes! I want to see something spectacular that I wouldn't see anywhere else!
2. What kind of ringmaster would you enjoy watching?
A. One with a surprise up their sleeve at all times.
B. One with many dramatics and flare.
C. One who's quiet and lets the performance speak.
D. One who's loud and enthusiastically commanding.
3. Would you want to come for the magic tricks or illusions?
A. Yes, I especially love magic tricks with lots of unique props.
B. Why give an illusion when you can perform a grand monologue?
C. Yes, I want something mysterious and breathtaking.
D. Hmm, maybe? I like them, but they're not the spotlight of the show.
4. My favorite part of the show would most likely be…
A. The fun and loud dance numbers with a sense of wonder and innovation.
B. The drama and the emotion that pulled at my heart strings.
C. The beauty of a story told through magic.
D. The powerful performances done between man and beast.
5. Who shares the limelight with your ringmaster?
A. I don't necessarily have to see them in the limelight, but maybe backstage.
B. A large company of impressive performers.
C. I prefer a one man/woman show.
D. A loyal troupe of performers the ringmaster trained.
And the results are. . .
If you got mostly A's, you would enjoy watching The Electrical Menagerie.
A performer with innovative and imaginative electricals, Carthage will be sure to swipe you off your feet in a state of awe. In between choreography, magic tricks, and unique props, there is no way you won't want to come back to see The Electrical Menagerie perform again and again.
If you got mostly B's, you would enjoy watching The Abernathy Players.
A highly accomplished theatrical troupe is sure to pull all your heart strings in a dramatic performance of soliloquies and profound acting. There is no need for magical displays or stunning creatures when The Abernathy Players are sure to make a lasting impression throughout their entire show.
If you got mostly C's, you would enjoy watching Andromeda Skyhawke, Mistress of Illusion.
A one-woman show is all you need as she performs something mysterious and breathtaking, bringing you to the edge of your seat in fascination. You don't require many words as stories of beauty and restoration are unveiled in powerful, magical ways by the talented Andromeda Skyhawke, The Mistress of Illusion.
If you got mostly D's, you would enjoy watching Lior Bonaventure.
A stunning display of man and beast is the perfect kind of show! Majestic stallions that perform in ways that almost defy gravity are sure to get the heart racing in excitement as soon as they take the stage. Enjoy a thrilling performance from Lior Bonaventure, as man and beast try to be one with the Stars under the big tent.
Share with us in the comments who you would enjoy watching and don't miss snagging your e-copy!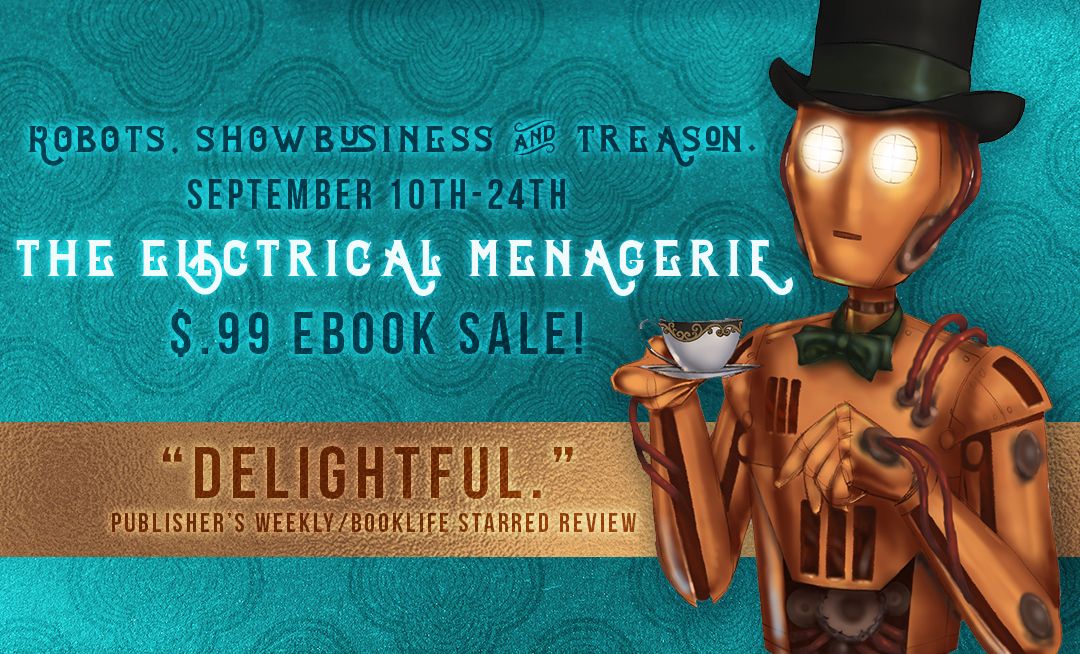 About the Book
For fans of Caraval and The Greatest Showman: a quest for fame and fortune in a stardust-powered empire brings debt, scandal, and danger in spades.
The Electrical Menagerie, one-of-a-kind robotic roadshow, is bankrupt.
Sylvester Carthage, illusionist and engineer, has the eccentric imagination the Menagerie needs to succeed creatively — but none of the people skills. Fast-talking Arbrook Huxley, meanwhile, has all the savvy the Menagerie needs to succeed commercially — but none of the scruples.
To save their show, Carthage & Huxley risk everything in a royal talent competition, vying for the once-in-a-lifetime chance to perform for the Future Celestial Queen. In this stardust-and-spark-powered empire of floating islands and flying trains, The Electrical Menagerie's bid at fame and fortune means weathering the glamorous and cutthroat world of critics, high society, and rival magicians — but with real conspiracy lurking beneath tabloid controversy, there's more at stake in this contest than the prize.
Behind the glittery haze of flash paper and mirrors, every competitor has something to hide… and it's the lies Carthage & Huxley tell each other that may cost them everything.
"Delightful." Publisher's Weekly/Booklife Starred Review
"Dazzles from start to finish. In Carthage & Huxley, Sherlock & Watson fans will find another dynamic duo whose ready wit and sizzling banter (and inevitable personality clashes) never fail to delight. You'll be calling for an encore performance." Gillian Bronte Adams, author of The Songkeeper Chronicles
"The stuff that fandoms are built on." Kyle Robert Shultz, author of Beaumont & Beasley
About the Author
Mollie's first job was with a major theme park, where she operated a roller coaster, fixed parade floats, and helped Scooby-Doo put on his head. Now, Mollie is a movie producer and the author of character-driven science fiction/fantasy novels for adults who never outgrew imagination. Her favorite things include Jesus, dinosaurs, and telling cinematic stories that blend glitter and grit.